Nursing Support Pillow
---
Product Information

Whether during your pregnancy to your baby's first year- it stays practical, soft and comfortable. Firm texture yet soft & bouncy.

A natural hypoallergenic pillow using microfibers filling & 100% cotton case keep the dust, mite and bacteria at bay.
Product Description
𝗦𝗵𝗮𝗽𝗲𝗲 𝗡𝘂𝗿𝘀𝗶𝗻𝗴 𝗣𝗶𝗹𝗹𝗼𝘄 is your ideal companion 
Shapee Nursing Pillow, 𝒇𝒐𝒓 𝒂 𝒄𝒐𝒎𝒇𝒊𝒆𝒓 𝒇𝒆𝒆𝒅𝒊𝒏𝒈 𝒂𝒏𝒅 𝒃𝒐𝒏𝒅𝒊𝒏𝒈 𝒕𝒊𝒎𝒆.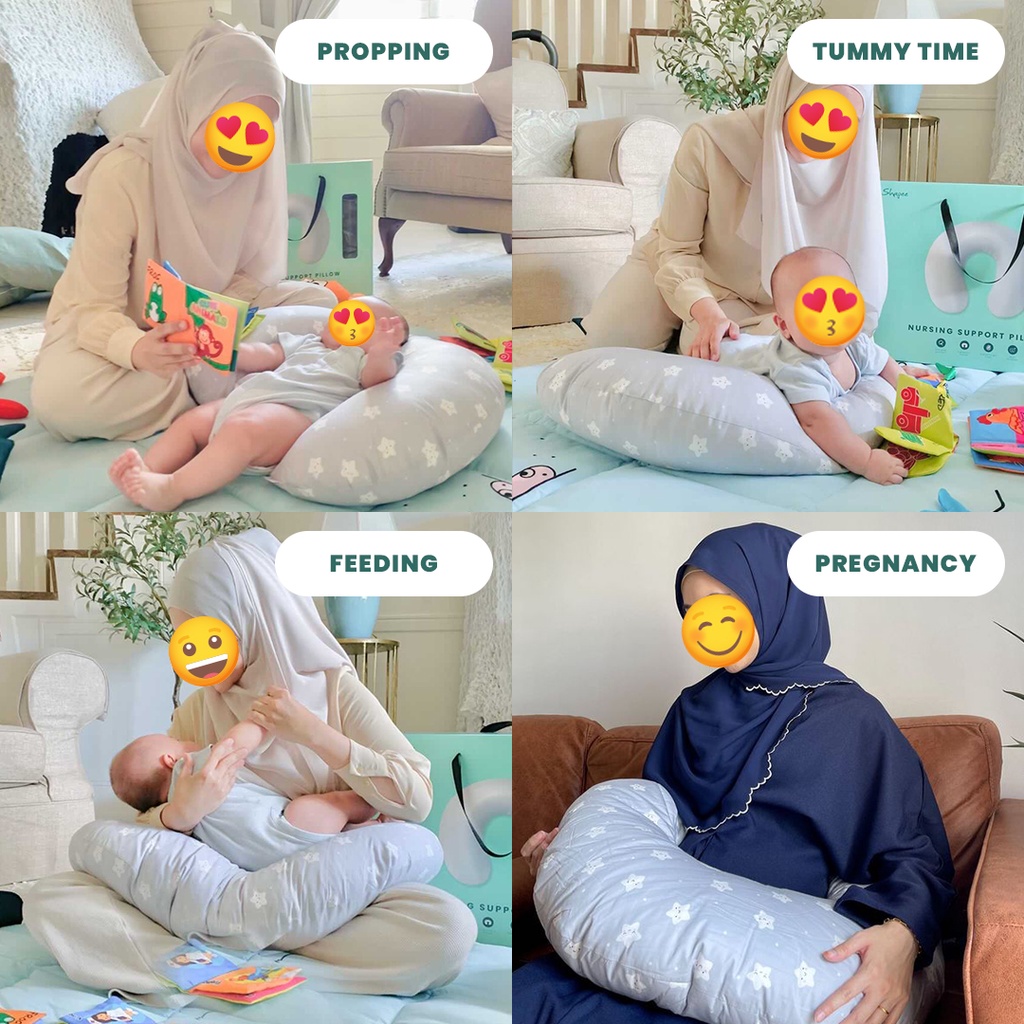 Ideal for 
🤰🏻Pregnant mommy looking for back & tummy support
🤱🏻Breastfeeding mommy for a better latch & breastfeeding time
👶🏻Baby from 0-12 months- tummy time, propping & sitting
👶🏻Sensitive skin/ allergy
Why nursing pillow is necessary for them? 
❗Some Nursing Pillow is not made for allergic or sensitive skin. It can trigger eczema.
❗Pregnant moms will high be likely to develop hip and back pain as they entered 2nd trimester.
❗Hunching over to breastfeed the baby every day can cause back, neck and arm pain. 
❗Baby's tummy time on the pillow is perfect to strengthen neck, arm and chest muscles. 
𝗦𝗵𝗮𝗽𝗲𝗲 𝗡𝘂𝗿𝘀𝗶𝗻𝗴 𝗣𝗶𝗹𝗹𝗼𝘄 is your ideal companion 
⭐ Hypoallergic microfibres filling: A natural anti dust, mite and bacteria. Ideal for sensitive skin or prone to allergy. Keep mold and dust at bay. Thus, reducing the allergy reactions.
✅ Ergonomic design: ideal to support mommy & baby
- Support any feeding style – cradle, cross-cradle, football, or even bottle-feeding
- Support through baby's first year – tummy time, propping, sitting
✅ Snug fit design: Stretchable U-shaped design to hug the body while feeding. 
✅ Versatile support: multipurpose function that supports baby from 0-12 months
✅ Soft & comfortable with a firm structure to hold the baby
✅ Breathable material pillowcase made of 100% cotton
✅ Easy care: Built-in zipper pillowcase & Machine washable 
Product specifications:
- Product size: approx. 65 (w) x 50 (l) cm
- What's inside the box? 1x nursing pillow + 1x pillowcase + 1x box
- Weight with box: 1.85kg 
- Material: pillow fill- hypoallergic fiber, pillowcase- 100% cottons
- Pillowcase pattern: Stellar Grey (grey), blue reed (blue), polkastar (green)
Washing Care:

Do not iron
Do not dry clean
Tumble dry low
Machine wash with delicate cycle
Wash Temperature 30°C
Recommended
product satisfied, will recommend to friends.
Goood product and very support mother breastfeeding, and the pillow is smoothly